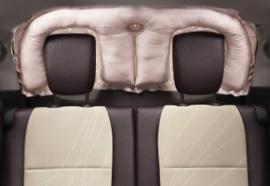 Apparently, Toyota wants to challenge Volvo for its coveted safety crown: It's developed a new supplemental restraint system. Dubbed a world-first, the back window airbag is meant to work with the head restraints to protect passengers' heads in a rear collision.
The new system deploys in the same manner side curtain airbags do, from the roof lining. Toyota plans to put the innovation into production immediately in its new iQ micro-car. Toyota says the airbags nearly double rear passenger head protection. That's a good thing, too, considering the iQ's backseats bump up against the rear hatch and glass.
While there are no official plans to export the iQ micro-car to America, we reported this summer that Toyota would like to do so if it can make a business case for it — and, of course, if the iQ could pass safety standards here.