GM Crossovers: Hybrids, Consolidation Off the Table For Now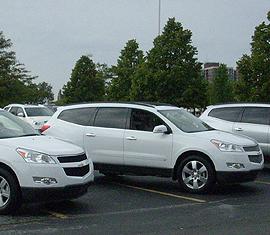 With Chevrolet receiving the fourth of GM's large crossovers — it's called the Traverse, and it joins the Saturn Outlook, GMC Acadia and Buick Enclave in the lineup — GM has some options on the table. Is there room in the market for all four models? Could a version of the company's two-mode hybrid system make its way over? With Toyota and Dodge now offering four-cylinder drivetrains in their competing crossovers, will GM follow suit?
We spoke with Sue Wilson, vehicle line director for all four crossovers, at a Chicago-area media event for the Traverse yesterday. Wilson said she's unaware of any plans for a hybrid version of any of these crossovers, echoing reports last January and more recently that GM is still a ways off from a two-mode hybrid crossover of this size.
What about smaller engines?
Toyota recently announced plans to boost mileage with a four-cylinder option in the 2009 Highlander, and Dodge already offers a base four-cylinder in the three-row Journey, though both of those vehicles are smaller than GM's four crossovers. Wilson demurred, pointing to the efficiency of the Traverse's direct-injection V-6 — it gets 19 mpg in combined city/highway driving — and said she'll be interested to see how the four-cylinder Highlander performs. (Toyota promises it delivers "strong response at all engine speeds." We're just as interested to find out for ourselves.)
There's been some speculation — most recently in Automotive News — about the future of the Traverse's siblings. The Saturn Outlook has come under particular scrutiny: While its GMC and Buick siblings are selling well, the Outlook's year-to-date sales are down 20%.
Wilson, however, is adamant about its future: "There is room for all four," she said. "If you're a Saturn customer and you've grown in that Saturn family, [the Outlook] is a good vehicle for you. It's a growing segment. We now have four entries; we have the best four entries."