Cops: Inept Criminal Drives Off in Ferrari, Leaves Brake On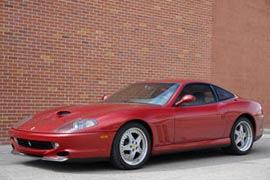 Not that we're advocating the theft of a $130,000 Ferrari, but if you do decide to take that plunge, be sure to learn a few lessons from a Salt Lake City incident.
Last week, police say, Steve Syme, 50, stepped into a 2001 Ferrari 550 Maranello left idling on the dealership lot of Steve Harris Imports. As a practice, dealership employees keep very little gas in their vehicles, but even if the thief had had a full tank, he wouldn't have done himself any favors by allegedly stopping to steal a $1,900 diamond ring from a local jeweler. Police arrested the suspect about 10 minutes after the ring theft, when he allegedly tried to take the ring to a pawn shop.
As Salt Lake City police suggested, being on the lookout for a Ferrari 550 Maranello didn't exactly take heightened amounts of investigative prowess.
The Ferrari received minor damage, including the fact that the suspect conducted his crime spree with the Ferrari's emergency brake engaged for the entire trip.
Stolen Ferrari Quickly Recovered After Spree (Deseret News)