Credit Crunch Hitting Car Dealers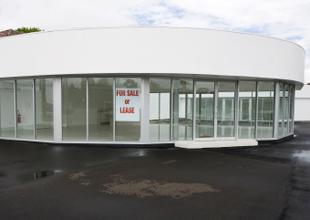 At least 600 of the 20,700 new-car dealerships in the U.S. will have been forced to close this year, versus 430 last year, according to the National Automobile Dealers Association.
"Up to 80% will be domestics, because they've lost more than their share of sales," said Paul Taylor, chief economist for NADA. "Once closed, it's difficult to reopen."
Others estimate that even more need to close — up to 3,800, according to Grant Thornton LLP, a corporate advisory and restructuring service.
"The American market has been over-dealered for a number of years, " said Paul Melville, a Grant Thornton partner. "But the current credit crunch and high cost of financing has created the perfect storm. Dealers can't get the funds to finance the cars and can't make money, so they turn the key and close shop. Only the strongest will survive. Dealers going away aren't coming back. The Detroit Three don't have the money to support all those dealers."
Taylor says the problem is a simple one.
"There are more dealerships out there than there are cars to sell, which hardly justifies that many staying in business," he said.
While dealers are facing a credit crunch, consumers have their own problems: making the mortgage payment, paying the energy bills and watching their 401(k) dissolve and their jobs disappear.
"The consumer is asking. 'Do I need a new car?'" Melville said. "Consumers are saying used cars are good and reliable, and certified used carries a warranty, so if I buy used rather than new I can afford a vacation or fixing the house."
Melville has a suggestion to help dealers survive: subdivide real estate.
"Many dealers, especially those who sell domestics, own more real estate than their potential sales justify," Melville said. "If they're in prime retailing corridors, they may be able to subdivide their land, preserving enough space to operate a leaner and potentially more profitable business, and sell the balance to investors for redevelopment. Why not sell some of that space for retail stores or fast food outlets? If a dealer has unsold cars in stock for 200 days, he doesn't need all the space he has."
Melville says dealerships could do as corner gas stations have done in many suburbs and become one-stop stores for gas, groceries, and a burger or sandwich all under one roof.
And what if Congress does approve a bailout package to ease the credit crunch so consumers can get money to buy a new car and dealers can obtain financing to purchase cars to have in inventory?
"It will help," Taylor said. "Good will come. It's a matter of how soon."