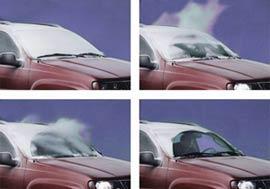 After a recall of 944,000 vehicles, GM has put the kibosh on its optional HotShot windshield washer system, which caused an electrical short. The malfunction led to 34 warranty claims (so far) and three reported fires when a short in the circuit board overheated the control-circuit ground wire.
GM has blamed the dangerous glitch on the system's supplier, Microheat. GM wants Microheat to pay the estimated $20 million to $25 million cost of the recall, while the supplier contends that it's still owed money by GM for parts and tooling. Already in financial trouble, the recall could push Microheat out of business and end its innovative system, perfect for dispatching insect remains in the summer and rock-hard ice in the winter.
GM will fix the problem at dealerships, free of charge before Nov. 1st. Vehicles affected by the recall include the Buick Lucerne and Enclave; the Cadillac DTS and Escalade; the GMC Yukon, Sierra and Acadia; the Saturn Outlook; the Hummer H2; and the Chevy Silverado, Avalanche, Tahoe and Suburban.
GM Drops HotShot Windshield Washer System After Expensive Recall (Autoblog)