Minnesota Bridge Now With Pollution-Eating Art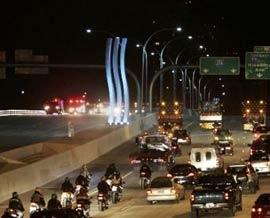 The new I-35W St. Anthony Falls Bridge in the Twin Cities replaces the one that collapsed so tragically a year ago. In addition to adding 76 feet of width, increasing the bridge to 10 lanes with shoulders on each side, and being certified for a 100-year lifespan, the bridge also features some unique artwork.
Two sculptures set on the concrete barrier between the lanes are designed to look like the cartographic sign for water, symbolizing the Mississippi River as it passes through Minneapolis. More interesting, however, is that the statues also fight pollution.
They are constructed from photocatalytic concrete, which converts harmful gasses like carbon monoxide, nitrous oxides and sulfur dioxide into higher-oxidized states that are far less harmful to air quality. The concrete mixture will also maintain that fresh white color because of oxidization.
So why aren't we using photocatalytic concrete everywhere? The answer, according to Concretedecor.net, is that photocatalytic concrete is still in the process of "moving from the laboratory to commercial reality." Hopefully someday it will be the go-to building material.
Twin Cities Bridge Debuts 30-Foot-Tall Pollution-Sucking Sculptures (Autoblog)