More Than Half of '09 Models Will Be iPod-Compatible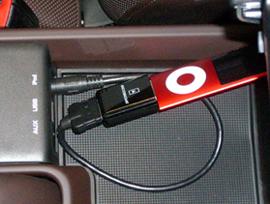 Apple continues its steady march toward world domination, which is great, because at this rate the next car I buy will definitely be able to play music from my iPod.
More than half of new cars sold in 2009 will offer some kind of iPod connectivity, according to a study by iSupply Corp (another branch of that world-dominating company, I'm sure). The percentage of 2008 models with iPod connectivity hovered around 39%, but the study found that the number of compatible '09 models will see a 58% jump, which will push the overall number of iPod-compatible vehicles to well over half.
This isn't all that surprising given that iPods make up 70% to 80% of the overall market for portable media players, and the demand for connectivity between cars and PMPs has rapidly increased. Car buyers are coming to expect that option in new vehicles; it's only a matter of time before connectivity for iPods and other PMPs will simply be standard.
Will you look for iPod connectivity in your next car purchase? How important is it? Let us know in the comments.
Report: Half of U.S. Car Models to Offer iPod Connections in 2009 (TechnoRide)