Nissan GT-R Supercar Has Strict Warranty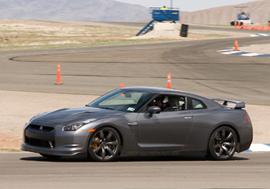 A story has spread on the Internet over the past week about a 2009 Nissan GT-R owner who couldn't get his warranty to cover a blown transmission. The problem? He says he had turned off the stability control to use the car's launch control feature. That mistake cost him $20,000 in repairs.
We contacted Nissan about this problem — they seemed well aware of the Internet story — and were told that using the launch control feature or turning off the VDC by themselves would not void the warranty. However, if the two features are being abused and lead to damage than the warranty is void. We list the excerpted warranty below and it includes normal stipulations about modifications, racing and other changes that void warranties.
Nissan wasn't able to quantify how owners could use the car, meaning how many times it could be driven on a track or other hard uses. There are other GT-R owners who have complained about the transmission, but many on the original Internet forum thread attacked the original story's author for not being a good enough driver.
The result remains for GT-R owners: Don't drive your 0-60-mph-in-3.5-second GT-R too hard if you're not willing to pay for it.
Related
Cars.com 2009 Nissan GT-R Review
Bad GT-R Transmission Thread (NAGTROC Forums)
What is not covered: Damage, failures or corrosion due to accidents, misuse or alterations
This warranty does not cover damage, failures or corrosion resulting from:
Accident, theft, fire, driving through water (including engine water ingestion) or misuse, which includes, but is not limited to, operation in violation of any applicable law and racing of any sort whatsoever (Proper use is outlined in your owner's manual).
Alteration, tampering or improper repair, including but not limited to adding/replacing chips, reprogramming or attempting to reprogram, alter or disconnect any computer or control unit.
Operating the vehicle with the Vehicle Dynamic Control (VDC) off, except when rocking vehicle when stuck in mud or snow (see GT-R owner's manual).