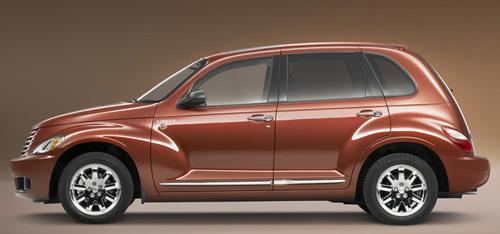 Awhile back,
I tested the Chrysler PT Cruiser
and folded the rear seats only partially before I put all my toys in. This creates a load floor that's not level, which I didn't like. Readers correctly pinged me about not folding the rear seats all the way, which does create a flat floor, so last weekend when I had a rental PT Cruiser to take to my cyclocross races, I thought, "Gosh, I should try folding the seats the way the others suggested."
You know what? It still stunk.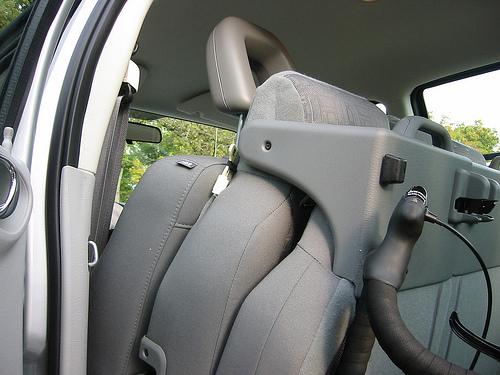 I should point out that the PT Cruiser is not alone in its seat arrangement. Other cars I've driven have the same setup, where you first fold the seatback down then bring the now-folded seat forward, leaving a flat floor behind it. A similar design on the Land Rover Range Rover Sport and others has you fold the seat bottoms up then flop the rear seatbacks down. In either case, folding the seats in such a manner generally cuts into your cargo area.
It wasn't so bad in the Range Rover Sport because it's a big SUV, but on a smaller car like the PT Cruiser you really miss that bit of cargo space you lose when the seat is standing up back there.
I should also point out that it took longer than I would have liked to get the bike in there with the seats folded bolt upright, and even then I had to ever-so-gently latch the rear hatch closed so I didn't jam my bike's handlebars. But, hey, I hadn't raced yet; I'd had some coffee and a nice breakfast — what could be more fun than loading a car, right?
After the race, though, I was tired, cold and wet. Rather than fiddle with the stupid thing, I flopped the seats halfway down, like when I first tested it, and it was awesome. I tossed the bike back there and was done and out of the rain in seconds. That convenience, my friends, is what you want at the end of a hard race day. You can see from the pictures from my original test that all my gear plus a bike fit with the seat folded halfway.
What's that you say? Don't own a bike? Can't see the relevance? That's a fair point. If all you do is haul boxes of diapers, a pet carrier or other blocky things, yeah, do whatever you want with the seats. Ditto if you're a runner: You don't need to worry about gear, and you're very smart for picking a sport without bulky equipment.
But let's say you have to move something for a friend. Let's say you have to move … "The Banks of the Marne in Winter" by Camille Pissarro for your friend at the Art Institute of Chicago. I can tell you right now that folding the seats for a flat load floor is not going to work.
You'll be much happier folding the seats down in such a way that you have all the length you can in the cargo area to accommodate that painting's size. And you'll want to be driving something longer than a PT Cruiser.
Of course, why anybody would want to take such a pretty painting to a cyclocross race is beyond me, but, hey, different strokes ….