Ford Announces Pricing on 2010 Fusion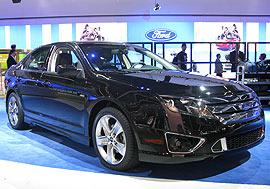 So the new Ford Fusion is an attractive package that potentially has class-leading mileage — but what about its price?
Ford just launched a new consumer site for the 2010 Fusion, and overall the vehicle holds the line with aggressively low prices. The Fusion starts at $19,270, which is cheaper than the Chevy Malibu, Honda Accord and Nissan Altima, but is more expensive than the Mazda6, Hyundai Sonata and Toyota Camry (though by less than $1,000).
Keep in mind, too, that those are 2009 models, and this is a 2010.
The hybrid costs $1,000 more than a comparable Toyota Camry Hybrid, but is estimated to get 5-6 more mpg in the city than that car.
Another tidbit from the website: The inline-four with the six-speed automatic has better predicted mileage than the manual, at 33 mpg on the highway.
Here's a detailed price list, including some features information:
Fusion S $19,270
2.5-liter I-4 w/six-speed manual
Air conditioning
Power windows, locks and mirrors
Capless refueling
16-inch alloy wheels
Electronic stability control and antilock brakes
Fusion SE $20,545
2.5-liter I-4 w/six-speed manual
17-inch alloy wheels
Six-speaker audio system with Sirius Satellite Radio
Optional E85-capable 3.0-liter V-6
Optional Sync 2.0
Fusion SEL $23,975
2.5-liter I-4 w/six-speed automatic transmission
Sync 2.0
Seven-color lighting system
Leather-wrapped steering wheel w/audio controls
Leather-trimmed heated seats
Dual-zone automatic climate control
Automatic on/off headlamps
Keyless entry pad
17-inch alloy wheels
Optional E85-capable 3.0-liter V-6
Optional reverse-sensing system
Optional all-wheel-drive system
Optional GPS navigation system
Optional Sony sound system
Fusion Sport $25,825
3.5-liter V-6 w/six-speed automatic transmission
Sync 2.0
Red-, blue- or black-accented leather seating
Chrome-trimmed interior
18-inch alloy wheels
Dual exhaust
Optional all-wheel drive
Optional GPS navigation system
Optional Sony sound system
Fusion Hybrid $27,270
Reverse-sensing sonar
17-inch alloy wheels
SmartGauge with EcoGuide
Eco-responsible seats
Optional heated leather seats
Optional GPS navigation system
Optional Sony audio system