GM Red Tag Sale: Cadillac, Hummer, Saab Deals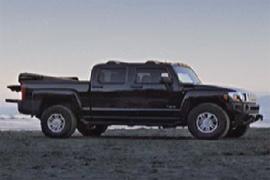 Our coverage of GM's Red Tag Sale rolls on, and this time we're taking a look at available deals on Cadillac, Saab and Hummer models for 2008 and 2009. Given the pricey nature of most of these vehicles, the percent-off calculations are slightly less impressive than, say, Chevrolet's might be, but the cash back and Red Tag prices team to provide some interesting deals.
For example, the 2009 STS V6 1SC saves $5,719 off its original MSRP of $55,325. The 2008 Escalade SUV 2WD drops $10,183 off its original MSRP of $56,890, among others.
Saab and HUMMER have their fair share of deals as well. A 2008 Saab 9-3 Aero Sport sedan drops from $35,960 to $30,145 after the Red Tag sale and cash back, while the 2008 9-5 Aero Sport sedan drops all the way to $32,719 from $39,480. Most of the Hummer deals are what you'd expect — huge rebates and cash back on the company's slow-selling models. There is one interesting outlier, though: The brand-new 2009 H3T has $1,500 cash back; with the Red Tag sale, it drops from $31,495 to $28,188.
A larger list of vehicle deals is below. As always, be sure to double-check your zip code on GM's site to make sure deals apply in your area.
2009 Cadillac CTS RWD
MSRP: $36,680
Red Tag Sale Price: $32,916
Savings: $3,764
2008 Cadillac DTS Performance
MSRP: $51,545
Red Tag Sale Price: $42,984
Savings: $8,561
2008 Cadillac Escalade 2WD Platinum
MSRP: $77,495
Red Tag Sale Price: $65,978
Savings: $11,517
2008 Cadillac Escalade EXT AWD
MSRP: $55,790
Red Tag Sale Price: $45,678
Savings: $10,112
2008 Cadillac STS
MSRP: $44,550
Red Tag Sale Price: $36,359
Savings: $8,191
2009 Cadillac DTS 1SD
MSRP: $51,500
Red Tag Sale Price: $46,946
Savings: $4,554
2009 Cadillac Escalade SUV 2WD
MSRP: $61,935.00
Red Tag Sale Price: $57,180.50
Savings: $4,755
2009 Cadillac Escalade Hybrid SUV 2WD
MSRP: $72,865
Red Tag Sale Price: $67,779
Savings: $5,086
2009 Cadillac SRX V-6
MSRP: $40,835
Red Tag Sale Price: $37,346
Savings: $3,489
2008 Saab 9-3 Aero SportCombi
MSRP: $36,995
Red Tag Sale Price: $31,143
Savings: $5,852
2008 Saab 9-5 Aero Sport sedan
MSRP: $39,480
Red Tag Sale Price: $32,719
Savings: $6,761
2009 Saab 9-3 Sport Sedan 2.0T Touring
MSRP: $31,135
Red Tag Sale Price: $28,243
Savings: $2,892
2009 Saab 9-5 Aero Sport sedan
MSRP: $42,200
Red Tag Sale Price: $38,569
Savings: $3,631
2008 Hummer H2 SUV
MSRP: $57,590
Red Tag Sale Price: $49,049
Savings: $8,541
2008 Hummer H3 SUV
MSRP: $31,340
Red Tag Sale Price: $25,829
Savings: $5,511
2009 Hummer H2 SUV
MSRP: $63,765
Red Tag Sale Price: $57,392
Savings: $6,373
2009 Hummer H3T Alpha
MSRP: $36,760
Red Tag Sale Price: $33,112
Savings: $3,648