Cars.com Mileage Challenge 3.1
Gas prices are dropping — precious good news in otherwise dismal economic times — but automakers clearly think we're still in for a long-haul increase. To wit: The MPG war remains afoot, and the higher the gas mileage numbers you can put up, the better. General Motors markets XFE trims, for Extra Fuel Economy, of certain cars and trucks that have been tweaked to get better mileage. Ford has the makings of a similar lineup in its SFE, or Superior Fuel Economy, badging. Even Hyundai and Kia tout drivetrain revisions that yield incremental upticks in several of their '09 models.
The ratings are sometimes impressive, especially among commuter cars, so for this fall's mileage challenge we put four of them to the test. GM's Chevy Cobalt and Pontiac G5 twins now get an estimated 25/37 mpg city/highway in high-efficiency XFE trim, which only comes with a manual transmission. The redesigned Toyota Corolla gets a close 27/35 mpg city/highway rating with an automatic; that's a slight increase over the prior-gen automatic. A number of other contenders post impressive highway figures, too.
Balk all you want about how your kid brother's '87 Tercel got 35 mpg going uphill, but we'll remind you that today's commuters can reach 60 mph in less than 10 seconds – with side curtain airbags and habitable backseats to boot.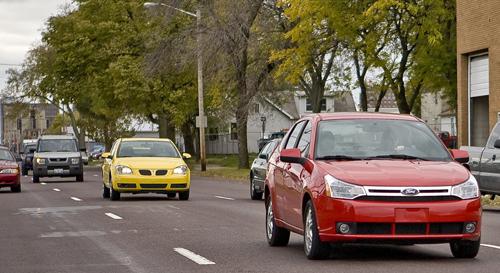 We picked some high-volume examples for the test, our third. Honda loaned a nicely equipped Civic EX-L, while Toyota sent a Corolla XLE. Both were 2009s with automatics, the transmission of choice for most Civic and Corolla buyers, according to each automaker's spokesman. GM sales spokesman John McDonald declined to provide breakouts for the XFE versions of the Cobalt and G5, both of which are sold only with stick shifts. Our own listings don't show a large number of them — of the thousands of Cobalts available nationally in Cars.com's new-vehicle dealer inventories, less than 50 are XFEs — but McDonald said the trim is relatively new, so GM is still ramping up its availability.
The General had a Pontiac G5 XFE on hand, and we were a bit curious about its sky-high highway figure, so we took it along. We asked Ford for an automatic '09 Focus — again, the volume seller there — but the best it could do was a stick-shift '08. Bah.
Our drive began at one gas pump in downtown Chicago and ended at another in Aurora, Ill. We drove southwest toward central Illinois, logging some 300 miles of mostly interstate commuting at speeds averaging 55 mph. Like before, we split the drive into four legs, rotating drivers at each stop to account for variances in driving style. We set a maximum speed limit of 80 mph, kept windows and sunroofs shut, filled the tires to their recommended pressures beforehand and went without A/C or cruise control. We also banned any high-mileage tactics — like drafting for long periods behind semis — and drove as we normally would.
Last time we had a videographer rotating from car to car for camera shots, introducing a weight variable depending on the leg. Not this time — the camera guys commandeered a Mercedes SL from our weekly press fleet (note to self: resign editorial, join multimedia), so the only weight added was a greasy restaurant lunch.
Did these cars hold up to their highway EPA figures? Stay tuned to find out, and weigh in with your predictions below.
Details on the cars:
2008 Ford Focus SES sedan: 2.0-liter four-cylinder, five-speed manual; 24/35 mpg city/highway (28 mpg combined)
2009 Honda Civic EX-L sedan: 1.8-liter four-cylinder, five-speed auto; 25/36 mpg city/highway (29 mpg combined)
2009 Pontiac G5 XFE coupe: 2.2-liter four-cylinder, five-speed manual; 25/37 mpg city/highway (30 mpg combined)
2009 Toyota Corolla XLE sedan: 1.8-liter four-cylinder, four-speed auto; 27/35 mpg city/highway (30 mpg combined)