2009 Audi A6 Pricing Announced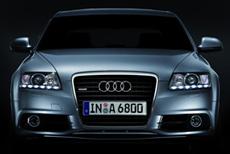 Audi's updated 2009 A6 rolls into dealerships in January with appearance tweaks and a new supercharged V-6 for the new year. Pricing will increase an average of $3,700 versus 2008 models, starting at $45,100 for a front-wheel-drive 3.2 sedan, not including an $825 destination charge.
Stepping up to Audi's Quattro all-wheel-drive models gives you the new supercharged V-6, making 300 hp and 310 pounds-feet of torque. Called the 3.0T, pricing is set at $50,100 for the 3.0T sedan and $53,310 for the 3.0T Avant wagon. A full pricing breakdown, including the 4.2-liter V-8 sedan and a high-performance V-10-powered S6 are below.
Three trim levels are offered for 2009, including Premium, Premium Plus and Prestige, so now base A6 owners can feel special calling their entry level A6 the "Premium" trim. Standard equipment includes a sunroof, Bluetooth, heated front seats on Quattro models and iPod connectivity.
Fuel-economy numbers for the new supercharged V-6 have also been announced: the 3.0T is rated at 18/26 mpg city/highway, or 21 mpg combined. This bests the BMW 535i xDrive's ($53,000) combined mileage by 1 mpg, and the AWD Mercedes-Benz E350 ($53,200) by 3 mpg.
Audi A6 3.2 sedan Premium — $45,100
Audi A6 3.0T Quattro sedan Premium — $50,100
Audi A6 3.0T Quattro Avant Premium — $53,310
Audi A6 4.2 Quattro sedan — $60,950
Audi S6 Quattro sedan — $75,900