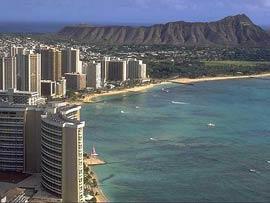 Just weeks after three mayors in the San Francisco Bay Area announced a partnership with the company Better Place to bring a network of electric-vehicle charging stations to their cities, Hawaii has one-upped them.
Hawaii, also in tandem with Better Place, will become the first state to adopt a network of charging stations that covers its entire territory. Obviously, this is made easier by Hawaii's small size, both in population and in territory. The state has only 1.3 million people, while the Bay Area alone holds 7 million.
The ambitious project will open its first stations by 2011, and have 50,000-100,000 stations across the state by 2012. Better Place wants to use Hawaii as a model for other states, demonstrating how to build EV infrastructure and create jobs from scratch.
Following this project, Hawaii's challenge will be shifting to renewable energy to generate electricity. Currently, 90% of the state's energy needs are met by imported oil (at a cost of $7 billion annually). Again, Hawaii makes for a good science experiment in this regard: It has no shortage of wind, sun and waves.
Hawaii to be 1st State with Electric Car Stations (The Washington Post)