Red Bows Sell Cars Despite Down Economy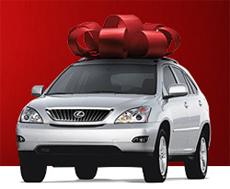 This weekend, a mob crushed a store employee to death in search of good bargains. Even with consumer confidence at a low this holiday season, people spent more money this Black Friday than last. However, most shoppers say they'll be spending much less over the entire holiday season than before.
Amid all the ads for Black Friday deals were the familiar bunch of TV commercials we see every holiday season: A loving husband giving his loving wife a $50,000 vehicle wrapped in a huge red bow.
"It's rubbing salt into the wounds of those struggling to keep home, job and 401(k) from disappearing as they watch CNBC about just how bad the economy is, only to have that Christmas ad flash on the screen with a big red bow around the new car being given as a Christmas present," said AutoTrends analyst Joe Phillippi.
Even Lexus' new — and admittedly humorous — ads hit with the weight of an SUV landing grille-first on your chest, yet Phillippi says even luxury-car makers have to advertise.
"Those with high net worth consume too, I'm just not sure how conspicuous the consumption is right now," he said.
Analysts agree that when it comes to ads, it's a matter of different strokes for different folks.
"There are those who have money to spend on a car, and a Christmas ad with a big red bow wrapped around a car is a tap on the shoulder reminding them that they have the means," said Erich Merkle, an analyst with Crowe Horwath.
While Lexus, Infiniti and Volvo have used big-red-bow ads as a sales tool, Merkle says no member of that trio can claim its buyers are immune to a weak economy.
"Maserati, Ferrari, Lamborghini, Bentley and Rolls-Royce buyers are immune, and their sales are all doing well, but Lexus, Infiniti and Volvo sales are all down like the rest of the mass-market automakers," Merkle said.
"This is what you do when you sell luxury cars," Volvo spokesman Dan Johnston said. "It beats doing nothing. We used red bows on our cars last year, too."
Infiniti spokesman Kyle Bazemore, however, insists there was a definite reason to use red-ribbon advertising this year.
"We used to start the ad campaign on Dec. 1, but we decided to start Nov. 1 this year because our buyers had the impression that with the way the economy is, they couldn't get the financing they needed to buy," he said. "So we wanted to get the word out early that they can get credit."
George Petersen, president of automotive research and consulting firm AutoPacific, said there's another reason for big-red-bow advertising.
"We've grown accustomed to seeing these ads each Christmas, just like seeing Santa riding through the snow on a Norelco razor," Petersen said. "The ad is meant to jump-start Christmas sales and get viewers to smile again and forget the economic downturn, and the desperation and negatives out there. The ads are meant to put people in an upbeat, positive mood and convince them things are good and it's business as usual."
Of course, the most important reason the big-red-bow-around-the-car ad campaign has run for many years is that it moves the hardware.
"Thanks to those ads, we've built showroom traffic and had record December sales in each of the last five years," Toyota spokesman Greg Tomei said. "I've looked at some competitor websites and now see red bows on their cars, too. Our success has bred imitators."