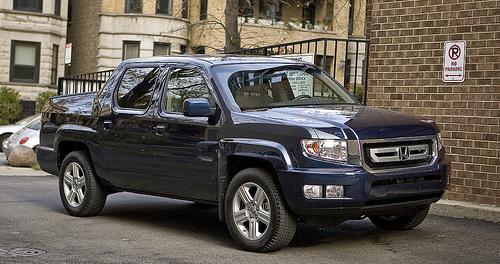 We normally stay away from trucks so our colleagues at PickupTrucks.com can have all the fun, but I snuck out with the Honda Ridgeline while nobody was looking. Why? Because I always doubted the picture Honda has on its website of a bicycle standing upright behind the driver's
seat
. I thought there was no way that was an adult's bicycle.
I was wrong.
My road frame fit in there with just a slight turn of the handlebars. Now, I'm not saying there's always truth in advertising, but the picture is accurate in this case.
And yes, I know there's a bed in back of the Ridgeline. I know it'll easily carry my bike, tent, etc. Yep, it'll all just sit back there. In the open. Where anyone can grab it.
Now, maybe you live in an honest neighborhood, full of trustworthy folk, but I live in Chicago, and sometimes I have to load my car up, go to work and leave it unattended for hours on end. On those days, I like to leave my stuff locked up. That's why I tested the Ridgeline's cab not its bed.
Now then, as you can see, everything fit really well. It was a pleasant surprise.
Loading did present the single biggest problem because, as I was using the cab to hold my toys, I had to load from the side. That's going to be a problem in any parking lot where you have someone parked next to you. Again, if you're the sort who can use the bed, go for it, but I like my stuff to stay inside with me.
The folks at PickupTrucks.com can give you a better idea of how the Ridgeline does as a pure truck, but for Weekend Athletes it's an interesting vehicle. I can't say I recommend it over most small SUVs, wagons or hatchbacks, but it wouldn't leave your toys out in the cold in a pinch.
The best way I can put it is that sometimes when I do this test I'll sum up by saying the car isn't the right tool for the job – meaning that said car falls short. In this case, the Ridgeline isn't really the right tool for the job because there are other vehicles that offer greater flexibility. However, if you're the sort who needs a truck bed, too, it is a unique offering.
Weekend Athlete Scores (Out of 10)
Ease of loading gear - 4: Loading from the side creates problems in crowded parking lots.
Ease of seat operation - 6: They fold up easily, but it's nothing segment-shattering.
Bike hauling ­- 7: It's good, but not outstanding compared to other vehicles.
Locker-room cred - 5: This is the toughest one to grade. On the one hand, you lose some flexibility loading only from the side, then again, you have a big bed back there …
All-around - 5.5: I guess I can say that if you held a gun to my head and said I had to take a pickup truck on my weekend adventures, this would be the one I'd want. But I'd want other vehicles more.