White is Top Car-Color Choice Again This Year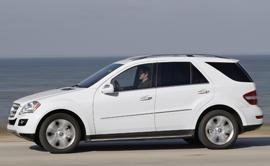 There's probably a really obvious D.L. Hughley joke in this story.
According to the 2008 DuPont Global Color Popularity Report, White and White Pearl are America's choice for favorite car color, with 16% and 4% of the market share, respectively. This is the second year white has come out on top.
Tied for second were black (which includes Black Effect) and silver at 17% each.
North American trends also highlight a growing trend toward global convergence. In other words, the colors Americans prefer are looking more like the ones drivers in Brazil and Russia enjoy, and vice versa.
Black leads in Europe, however, while silver leads in the Russian car market. India likes white cars and Asia leans silver. White and black are tied in Mexico, and Brazil's growing car market trends silver.
Also according to the report, blue is the "new green" when it comes to cars that represent the "preservation of nature."
Now I'm thinking maybe there's a really obvious Dennis Kucinich joke in this story.