In a change from last year's Detroit auto show, there were fewer concept debuts than production-model introductions this year. There were still a number of interesting concepts that emerged at the show, however, and Mike Hanley, David Thomas and Joe Wiesenfelder have weighed in on which ones hit the mark and which fell flat.
Audi Sportback
Mike Hanley: Winner
The Audi Sportback sedan concept follows in the footsteps of models like the Mercedes-Benz CLS-Class with its coupe-like profile, but I'm a bigger fan of Audi's execution, which has a clean, chiseled look. There are enough production-ready elements in this car — especially in the cabin — that it wouldn't be a stretch for Audi to build this car.
David Thomas: Winner
Could the front of this car be any bigger? In person, the front is just massive. It's a rather distinctive look even as it incorporates Audi's overall design theme. And it's much better than the Volvo concept.
Joe Wiesenfelder: Winner
Whole thing's enormous. More like the BMW X6 SUV than the Mercedes CLS. Actually, it knocks off the BMW CS concept from the spring 2007 Shanghai Motor Show. But that looked great, and BMW shelved it. I'll take this replacement, happily.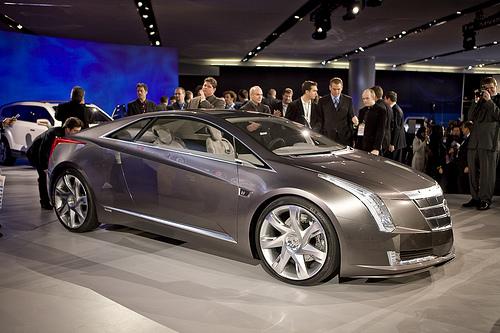 Cadillac Converj
MH: Loser
I like the look of this car, but Cadillac's been rolling out wedge-shaped concepts like it for years now, and the Converj doesn't bring much new to the table.
DT: Loser
There was something about this car that didn't wow me. I think it was the fact that it looks so much like the now-canceled CTS coupe. The dimensions are different, but the overall style is remarkably similar.
JW: Loser
Cadillac's recent concepts are like pasta: They come in slightly different shapes, but ultimately they have the same taste. There's nothing wrong with this look, but they need to either make it happen or move on. Hungry people don't wait; they order something else.
---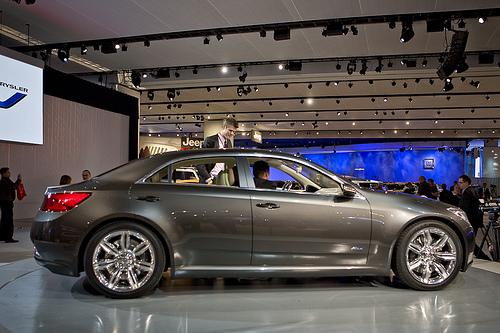 Chrysler 200C EV
MH: Winner
Purely from a design standpoint, the 200C EV shows that Chrysler still has what it takes to pen a stylish — if somewhat derivative — sedan. For now, forget the range-extended electric drivetrain under its the sheet metal and just get this design into production.
DT: Winner
Not only did Chrysler keep this under wraps and surprise everyone with its existence, it was good-looking too! I agree with Mike — make this the new Sebring and start selling some cars again.
JW: Winner
It's basically their version of the Chevy Volt — a range-extended battery-electric model that doesn't currently exist. It's a winner on the styling front, as Dave says, and Chrysler is better than some at turning dramatic concepts into dramatic products.
---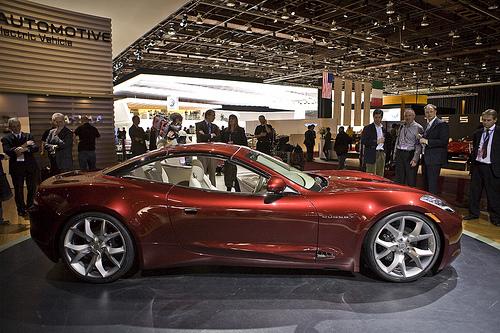 Fisker Karma S Sunset
MH: Winner
With the looks to keep pace with high-end exotic sports cars and a powertrain that a tree-hugger could love, the Karma S Sunset is a stunning blend of design and high-end technology.
DT: Loser
Sure it's good-looking, but I don't know if I want to drop a hard-earned $100K or so on a brand that has little track record. And if I want luxury, I want a big, gas-snorting engine, too.
JW: Winner
There's always someone on the road with more cylinders or horsepower than your exotic has. But a plug-in series hybrid? Looking like this? For the price of a common Mercedes SL-Class? Hate-mail-magnet Dave Thomas is way off.
---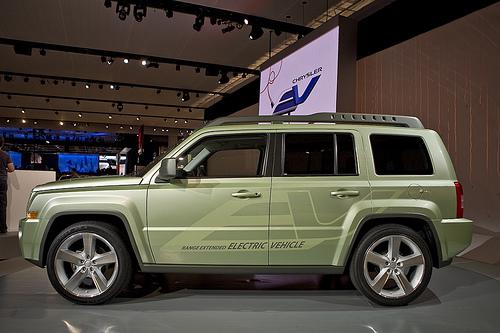 Jeep Patriot EV
MH: Loser
Even though it has an advanced powertrain, the Patriot EV — with its commonplace Patriot looks — can't compete with the other dazzling concepts that made their debuts in Detroit.
DT: Loser
It's definitely the best-selling model to possibly get an electric powertrain, but right now it's just a Patriot with a paint job. If it went on sale tomorrow, the excitement level might be higher.
JW: Loser
It's in the netherworld between concept and production: too plain to be a concept, too experimental to get a model year and a ticket to a dealership. A great idea, but a loser at an auto show.
---
Lincoln C
MH: Winner
One of the more interesting elements of the C hatchback concept is its 1.6-liter EcoBoost engine technology, which seems likely to make its way into a compact production car one day. Overall, the C has a believable unusualness to its design, and that makes it a winner.
DT: Winner
OK, the back end is just ghastly, but from most angles it's a good-looking little car. If the engine is legit, Lincoln should definitely keep the size, grille and that cool two-tone roof and rear pillar.
JW: Loser
I like the wonky floating steering wheel and the broad neon taillight, but it's not the first time I've seen either one. Otherwise, the Lincoln C is a weird little booger. Though I disagree with Mike here, I'm now dying to find a use for the term "believable unusualness." Trippy.
---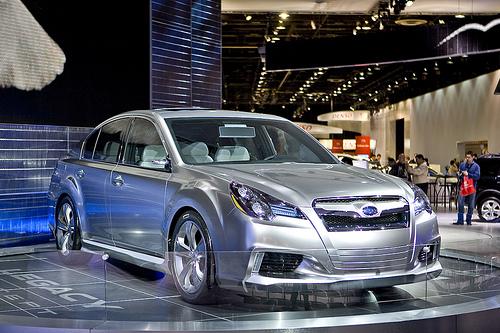 Subaru Legacy Concept
MH: Loser
Besides looking like a more muscular version of the current Legacy with its large fender flares, the Legacy Concept reintroduces elements of the B9 Tribeca — Subaru's Aztek in terms of styling — with its headlights.
DT: Winner
It's not the best-looking concept, but I can kind of see a handsome production model under the chrome grille and matte paint. The most important thing about it is its stretched form so it can finally compete with other midsize sedans in comfort and interior room.
JW: Loser
I'm a sucker for polished metal, or paint that truly approximates it, but this just looks too much like…you name it. Everything from the Toyota Matrix to the Infiniti G37 — and that's just from one angle.
---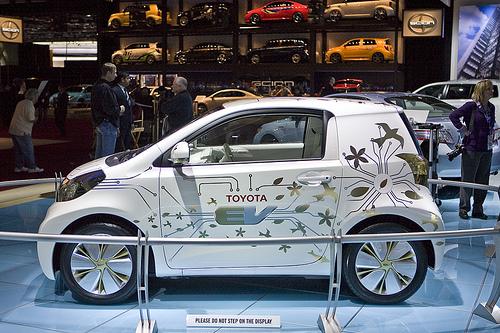 Toyota FT-EV
MH: Loser
Remove the gold-colored exterior cues and nature graphics, and this little pod of a car doesn't look all that different from Scion's old xA.
DT: Loser
I don't think I saw anyone photographing this concept while I was at Toyota's booth. Few people even gave it a second look. They were all focused on the new Prius.
JW: Loser
Don't blame the Prius; blame the gold, wrinkled-cellophane look of the head and taillights. Just not nice to look at. Of course, make it a production car — sooner than 2012 — and it's an instant winner.
---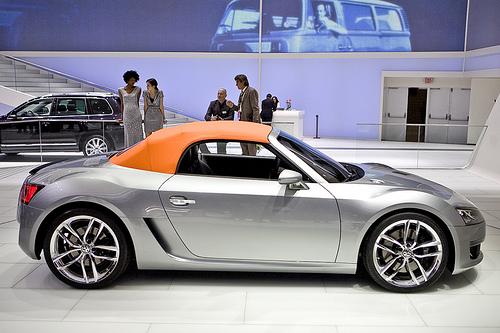 Volkswagen Concept BlueSport
MH: Winner
Apart from the orange top, this little roadster looks great and would probably be a blast to drive. Too bad VW doesn't have any rear-engine platforms — let alone rear-wheel-drive ones — that could be used to bring it to production.
DT: Loser
Sure, it was sexy. Sure, it could realistically be built. But does VW need a sexy convertible? It already has the metrosexual Eos, and most consumers probably don't associate sexy with VW. Plus, I was turned off by its blatant resemblance to the Audi TT and R8.
JW: Winner
It definitely sends mixed signals and would be better badged as an Audi. It borrows a lot, including Mazda-style raised front fender arches — possibly better executed here. I just couldn't take my eyes off it. Fortunately, tops can be left down…or dyed.
---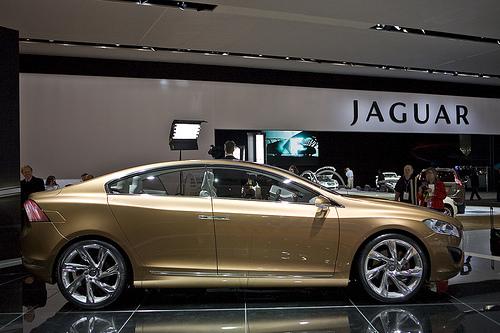 Volvo S60
MH: Winner
Volvo's S60 sedan is in need of an update, and if the next-generation model looks anything like this low-slung, aggressive concept, Volvo will turn some heads with it.
DT: Loser
This car was just wrong. The proportions were off, the lines were too jarring and the front end simply looked weird. I don't think this will save the S60 from automotive oblivion, and Volvo is already on shaky ground. Too bad.
JW: Loser
The current S60 was the car that plunged Volvo fully into a winning design era. If this concept is meant to do the same thing, they're in deep doo-doo. It looks like an early Audi Sportback sketch that was crumpled up and discarded, and rightly so.