Ford Reveals EcoBoost; Bests Segment in Mileage, Power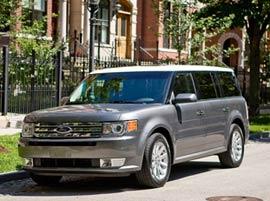 Ford will show the 2010 Taurus for the first time this morning, but it has already dropped the veil on one of the most anticipated engines in years. Seriously. The new 3.5-liter turbocharged V-6, called EcoBoost, will be used in cars, crossovers and, in the future, even trucks. Power numbers for the first application of the engine, in the Ford Flex, are 355 hp and 350 lb.-ft. of torque.
Mileage is estimated at 19/24 mpg city/highway. That's pretty amazing when you consider that that surpasses every standard V-6 in the segment — see chart below — in terms of fuel efficiency, adding nearly 80 hp. Wow. Not only that, the EcoBoost only comes in Flexes equipped with all-wheel drive. We still have to confirm that these mileage numbers are for an all-wheel drive Flex, which would make the mileage numbers simply astounding. And yes, it uses regular gas. Not premium.
The Ecoboost V-6 will be available in the 2010 Ford Flex first, going on sale mid-year, followed by the 2010 Lincoln MKT crossover to be revealed tomorrow. The Ford Taurus and Lincoln MKS will also receive the engine.
EPA Gas Mileage Compared (city/highway, mpg)


FWD
AWD
Toyota Highlander (V-6)
18/24
17/23
Chevrolet Traverse
17/24
16/23
Ford Flex
17/24
16/22
Honda Pilot
17/23
16/22
Hyundai Veracruz
16/23
15/22
Dodge Journey (V-6)
16/23
15/22
Mazda CX-9
16/22
15/21
*Source: Automaker and EPA data for 2009 models. Dodge recommends midgrade fuel for the Journey V-6; all others recommend regular.