Mitsubishi Jettisons Raider Pickup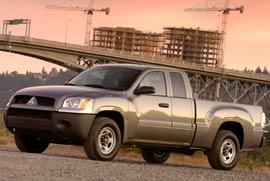 First Isuzu and now this.
Mitsubishi will cancel production of the Raider pickup truck sometime during the middle of next year, ending its creaky sales streak. The automaker is retooling its lineup to focus on more fuel-efficient cars, and the Raider moved quickly to the chopping block.
After debuting in 2005, the Japanese answer to the Dodge Dakota failed to catch on in any way, and anemic sales made it a prime target during a retooling period. Last year, the Raider's sales fell below 3,000 vehicles.
After Isuzu's departure from the states, this announcement further shrinks the supply of badge-engineered pickups trucks. So you tell us: Anyone out there going to miss the Raider?
Mitsubishi Killing Raider Pickup (PickupTrucks.com)