Reader Review of the Week: 2009 Toyota Matrix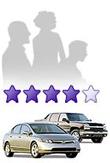 Don't always believe the hype. At least, that's the lesson "Lifetime Hatchback Owner" from Chicago took away from his experience with the 2009 Toyota Matrix. Impressed by Toyota's strong reputation of affordable, reliable cars, the purchase of a Matrix seemed like a no-brainer. The reality of the car differed from his expectations, though. Read the full review to find out why the Matrix couldn't earn this reviewer's recommendation, then post your own review
here
.
"The Matrix is a car I wanted to like. It looked funky and seemed to be a great value. But since I drove it off the dealer lot, I have been really disappointed. The mileage is lousy for a small car. I averaged 26 miles per gallon. My old VW Golf TDI averaged 41 mpg. More disappointing is the fit and finish. The interior pieces just don't feel well made. The plastics are already fading and cracking, and the glove box creaks when you open it.
"Also, the reliability has not been so good. Since I took ownership two months ago, the fan belt broke and the front bumper completely fell off the car when I went over a series of potholes in West Chicago (the car showed no signs of damage before that happened).
"I once thought that Toyotas were quality, affordable cars, but this car has changed my opinion. It is put together really cheaply and covered up with attractive pricing and styling. It is a shame, though, because this car has nice seats and a pretty good-size trunk, but that is not enough for me to ever recommend this vehicle."
*Editor's note: The 2009 Matrix has an EPA-rated mileage between 20 and 26 mpg in the city and 26 and 32 mpg on the highway, depending on the model. So, depending on which trim level our reader is driving, 26 mpg could be on target with the EPA estimates. Also, being based in Chicago we have seen some recent potholes that could cause severe damage to many cars. Most damage, however, happens to tires, wheels and suspension, not bodywork.