2009 Mercury Mariner: Weekend Athlete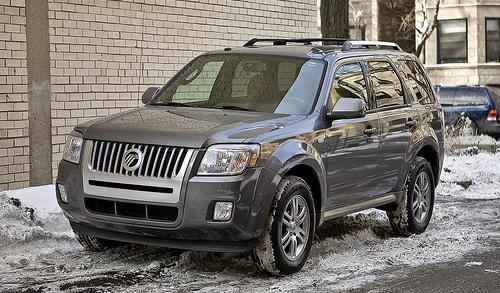 It's time to put away the bikes and take out the cross-country skis here in Chicago, and that means the Weekend Athlete test is going to shift with the seasons.
First up: The 2009 Mercury Mariner, which I tested eons ago with my bike and camping gear. When it comes to a winter car, the first thing I look for is a long cargo area. My skate skis are 1.9 meters long, and I generally carry two pairs when I go skiing. Even though cross-country skis are narrower and lighter than downhill skis, they still take up a lot of room.
Surprisingly, the Mariner came up short. I expected to need to put my skis in at a slant, but thanks largely to the seat-folding arrangement, I had to slant them more than I would have wanted. This was even worse when I only had part of the seat folded. Just as is the case with my bikes, I don't like to jam my skis in if I don't have to … and I had to with the Mariner.
There was enough room, though, for me to say that it'd be an OK vehicle to take two people for a long weekend trip of skiing. You could take three folks, but not if the trip lasts more than a day. It's just too small.
Also, and this might not be all the car's fault, but to really get my skis in, I had to take them out of the bag. That's not a big deal if you're going to the trail, but if I were going to the airport and wanted to just grab the bag and go when I got there, it wouldn't be fun to have to stand there and put the skis back in the bag. Like I say, a little thing, but I imagine other cars won't require this step.
Now, maybe it's because I find winter sports the most painful, but I find myself noticing a car's amenities more in the winter than summer. So these tests focus on things that make the cold (and pain) easier to take.
For starters, the Mariner has heated seats. That's nice, but my complaint is that they're the older variety that are either on or off. The best setup allows for not only high and low heat, but also lets you direct that heat just to your back, if you so choose.
Like several Ford products, the Mariner also comes with a keyless entry keypad. Personally, I prefer to take my keys with me wherever I go, but if you find that cumbersome, this system does give you the option of locking your keys in the car.
There's also the full safety complement of antilock brakes and an electronic stability system, which I find most helpful in the snow.
Finally, our Mariner had all-wheel drive (not all do) and I'd have to say that it's a big, big plus in winter for me. I've driven a Mercury Grand Marquis through a freaking blizzard, so I know I can do it, but I'd always prefer to have all-wheel drive on long trips.
Winter Weekend Athlete Scores (Out of 10)
Ease of loading skis and gear – 4: It's a hatch that opens nice and high, but that's about all the good things I have to say about it.
Ease of seat operation/size of pass-thru – 3: The seat-folding setup robs you of interior space you could use for longer skis.
"Laugh in the face of winter" factor – 5: It has heated seats, yes, but there are better types of heated seats.
Locker room cred – 5: It's got all-wheel drive, and I hate to rank something with all this safety equipment so low, but it's not at the front of the pack.
All-around – 4: This isn't to say that the Mariner is a bad car, but I suspect there will be other cars that will score much better in this discipline.