Ford Drops Employee Pricing, Keeps Rebates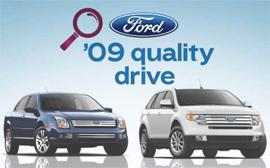 Ford dropped its employee pricing sale when the month turned over, but that doesn't mean the company has stopped its incentives. Now called the '09 Quality Drive, Ford's new incentives take a different tack, offering to cover the first three months of payments — up to $500 per payment — as well as cash back and free maintenance on certain models in some areas. Other offers include special financing or just cash back.
For example, in Chicago a 2009 Ford Focus gets three months of payments covered, free maintenance for two years and $1,000 cash back. The same car in Florida has up to $2,500 cash back, or $500 cash back and 0% financing for 36 months. Many of the deals are almost as impressive as the employee pricing program.
These new incentives run through March 2 and vary by region, so make sure to visit Ford's site here and plug in your zip code.