Hyundai Assurance Program Helps Sell Cars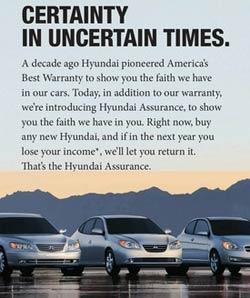 Hyundai stands as a unique bright spot amid all the dismal economic and auto sale news. Not only has it managed to greatly up its street cred with the award-winning 2009 Hyundai Genesis, but now it appears as if its Assurance program may be a hit with car buyers as well.
Hyundai credits the program — which allows car buyers who find themselves laid off to return their vehicle within the first two years — with pushing their January sales figures into the black. While nearly every automaker reported double-digit declines in sales, Hyundai managed to increase sales by 14.3% compared to February 2008.
John Krafcik, CEO of Hyundai America, says Assurance is responsible for 10%-15% of the increased interest. So far, only two buyers have taken advantage of the program and returned their cars, which shows that psychology goes a long way. By offering peace of mind, Hyundai may have found a winning sales strategy.
Hyundai Says Assurance Program is Effective (Autoblog)