IIHS Says Several Pickups Don't Meet Expectations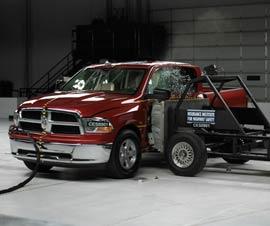 While you might envision large pickup trucks as pretty safe vehicles to be inside during a bad accident, the Insurance Institute for Highway Safety has news for you: The new Dodge Ram, Nissan Titan and Chevy Silverado all performed below expectations when IIHS tested four-door versions for side impacts.
Both with and without optional side airbags, the Chevy Silverado 1500 got a Poor rating, even though the Silverado got a five-star safety rating from the National Highway Traffic Safety Administration. Director of media relations Russ Rader told Autoblog that this was due to different testing methods; IIHS simulates the impact of a large truck or SUV with a taller barrier that impacts the more vulnerable parts of the door.
The Titan also received a Poor mark for side impacts, but increased that rating to Marginal with optional side airbags. The Ram, which has standard side airbags, managed a Marginal rating as well.
In case you're wondering, IIHS really doesn't have it in for large pickups: The new 2009 Ford F-150 and Toyota Tundra both were chosen as Top Safety Picks.