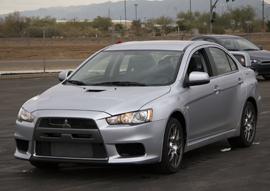 You should probably get used to seeing posts like this – we're sure more are coming. Like the Saturn Astra, the Mitsubishi Lancer Evolution will take a breather for 2009.
According to Mitsubishi spokeswomen Christine Jew, there were no changes planned for a 2009 Evo, and there was enough inventory to last until the 2010 model is released later this year. Cars.com's listings show 887 Lancer Evolutions from the 2008 model year still available.
While Mitsubishi doesn't break down sales by model, we concur with the automaker that its supply of Evos should suffice; at $30,000-$40,000 the Evo is Mitsubishi's most expensive offering.
Don't think this means the Evo is a sales laggard, however; sales were up 50.9% for 2008, Mitsubishi says. When the 2010 Lancer Evolution goes on sale, there will be a few minor changes, Jew said.