Regulated Lanes Could Ease Traffic Burden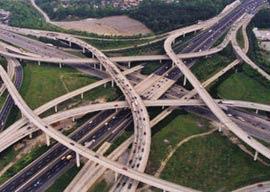 Georgia will undertake an experiment to see if managed lane use on highways could ease traffic burdens, especially around traffic-dense Atlanta. Spearheading the study is a Georgia Tech professor of civil and environmental engineering, Randall Guensler, who cites congestion pricing and lane fees as two ways to facilitate better driving behavior and improve traffic flow.
Congestion pricing is an idea that's been around for a while. The idea is to charge for the use of certain roads during peak hours to decrease the number of vehicles per hour. Limited-access lanes, on the other hand, are less-congested traffic lanes that promise to get you to your destination faster — for a price. The idea is that drivers in a hurry will pay to use the more open lanes, removing their negative, traffic-causing behavior from regular lanes.
In fact, Guensler thinks his research — part of which uses 470 area households in controlled driving studies that focus on day-to-day driving habits — will show that lane management is a more useful and cost-effective tool in reducing congestion than adding lanes through construction.
Georgia Manages Lane Use to Improve Highway Efficiency (Autopia)