First Turn-by-Turn Navigation App for iPhone: XROADS G-Map Review
Update: Apple has pulled the XRoads G-Map programs from its app store.
The iPhone has unquestionably dominated the mobile phone industry for the past two years. One of its biggest advantages over other devices is the long list of applications of every variety that can be downloaded to it. There are "apps" for everything from keeping track of your Twitter feed to following your favorite baseball team. Finally, after nearly two years, a developer has released the first real-time, turn-by-turn navigation application for the iPhone. XROADS G-Map ($19) is clearly the best real-time navigation option for an iPhone right now, but we ran it through the same tests we would a stand-alone TomTom, Garmin or Mio system to see how it fared with the big boys of navigation.


Ease of Use: 12 of 15 points

The touch-screen interface on the iPhone is more intuitive than most cellular devices. When creating an application for the iPhone, developers are advised to follow some general design guidelines to help them create an iPhone-like application. XROAD has done very well in following those guidelines. With this application, things just make sense. When you want to enter a destination, tap the "Where to?" button. To see the map, click "View Map." If an iPhone owner understands how to use an iPhone, then catching on to using G-Map will be a breeze.

As a Midwesterner, however, there isn't an ideal version of this app available. Due to the size of the application — nearly 900MB — the application is split into two versions, east and west, which must be purchased separately at $19 each. The line that defines east and west isn't the best, as it splits Illinois into two sections, north and south, with one in the east app and one in the west. In the next revision, I hope to see a more logical segmentation of the country. Or, if they must, they should add a Midwest version.

The size of the app might turn off 8GB iPhone users, as G-Map will take up an eighth of that device's capacity. Like all purchased apps, though, it can be removed from your iPhone at will and reside on iTunes until you're ready to reinstall it again, like before heading on a trip.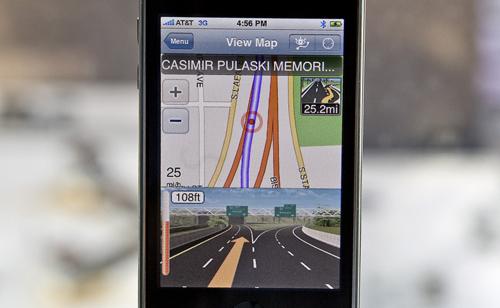 Routing: 13 of 15 pts

In the time I had to use the app, I was very pleased with the routing. Very clear, accurate and understandable directions were displayed on the screen. Best of all, when coming to a highway interchange G-Map displays a 3-D rendering of it. In all the GPS systems I have used, I have never seen such an accurate depiction of the road. In a few instances, this was able to route me into the lane I needed to be in to head the right direction, averting one of those scary moments you sometimes encounter when traveling somewhere new. I would, however, like to see a few more features added in the future, including route specs like distance and time to destination, average speed, a timer and even an odometer.

Map Quality: 5 of 10 pts

I didn't notice any lack in map quantity while using the system, but I did notice a lack of street names. When using a navigation device, it's always nice to have as many points of reference as possible, like street names or 3-D renderings of buildings on the map. Without every street name, you often have to rely entirely on the turn-by-turn directions, without real-world visual clues that you are where you should be, which may unsettle users.

This is a big misstep for the G-Map app, but what's nice about iPhone apps is that they can be updated in future releases at no charge. However, until that happens this score is definitely docked some points.


POI Content and Accuracy: 9 of 10 pts

I was most impressed with the POI search functionality. Rather than choosing by genre, location, zip or name, the user has a clear choice to do any or all of those. A simple search box allows users to search for what they want, where they want. Without internet access, the app has thousands of stored points of interest. Access to iPhone contacts for routing is a must-have that's lacking in this application. There were a few instances when I had to memorize an address and enter it into the app to be guided to the address. Again, an application update could fix this issue.

GPS Accuracy: 8 of 10 pts

This app is as accurate as the iPhone can be, and therefore it's just as good as most TomTom and Garmin units I've tested, but not in line with automakers' own navigation systems. When in a big city like Chicago, where we're headquartered — with large buildings there is going to be interference, but once you reach the first outer band of tall buildings on the expressway the app is as accurate as can be.

Multimedia Features: 4 of 5 pts

The iPhone is a clear winner here. It has outstanding multimedia features — it's an iPod Touch after all — and on top of that you're able to play your music in the background while using G-Map. I would like to see the ability to exit the application to change a playlist or make a phone call then return to the application without interrupting route guidance. Now, the destination must be tapped from the "Recent" menu to resume guidance.

Mounting Kit: 4 of 5 pts

While XROADS does sell a mounting kit, we were unable to test it. There are many different options for mounting the iPhone in a car, however, and commuters may already own such an adapter. That's even more potential savings compared to buying a separate navigation device like a TomTom.

Voices: 0 out of 5 pts

This application does not do voice routing. Because it's already such a memory hog, I can't imagine this feature will be added. Some people hate having a voice interrupt their music playback, and if you're one of those people the lack of audible directions won't be a negative. If, however, you are easily distracted and like the audible reminders, this omission could be a deal-breaker.

Design: 5 of 5 pts

As mentioned in the Ease of Use section, the developers of this application have done a great job following Apple's design guidelines. This app is very iPhone-like and therefore a big winner in terms of design.

Value: 20 of 20 pts

Overall, this application is an outstanding value for those looking to spend a lot less than they would on a traditional GPS unit. Even buying both regions would only cost $40 total, while a traditional unit with a screen the size of the iPhone's would cost around $200. Plus, this way you won't need to remember two different chargers on that next road trip, or worry about someone breaking into your car to steal your navigation system.

While there is room for improvement in this product, this is also the first attempt at a real-time turn-by-turn navigation application for the iPhone. As long as XROADS is willing to follow what other developers have done by offering free updates, this app is sure to take a chunk out of the GPS navigation market.

Total: 80 out of 100 pts