Fisker Partners With Dealers to Sell Plug-in Karma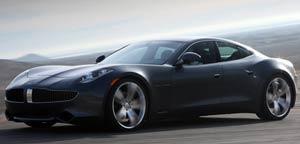 Fisker took a major step toward its goal of putting the Karma, its 100-mpg plug-in electric hybrid, onto 40 dealership lots by the end of June. The green automaker has named 32 North American retailers that will sell and service the $87,000 Karma sedan.
All the retailers are stable operations that mostly specialize in premium brands. Fisker also plans for the showrooms to display the company's eco ethics, with natural and sustainable woods and textiles incorporated into the architecture, plus solar-powered car ports for demonstrator vehicles.
Check out the full list of dealers after the jump.
Fisker Automotive Retail Network, Charter Members
Barrett Holdings, Inc. — Charles Barrett — San Antonio
Bergen Jaguar — Dennis Squitieri — Bergen County, N.J.
Bergstrom Corporation — John Bergstrom — Wisconsin
Borton Automotive — Kjell Bergh — Minnesota
Capitol Cadillac Company — Daniel Jobe — Maryland
Century Automotive Group — George Jones — Alabama
The Dorschel Automotive Group — Richard Dorschel — Rochester, N.Y.
Elder Automotive Group — Rob Elder — Tampa Bay, Fla.
Fields Auto Group — Dan Fields — Illinois
Fields Auto Group — Dan Fields — Orlando, Fla.
Fields Auto Group — Dan Fields — British Columbia
Frank Kent Motor Company — Corrie Churchill — Fort Worth, Texas
H.A. Ott Motor Cars LLC — Chip Ott — Philadelphia
Jaguar of Great Neck — Jack Weidinger — Long Island, N.Y.
M2 Motors, Inc. — Bernardo Moreno — Ohio
Manhattan Motor Cars — Brian Miller — Manhattan, N.Y.
Marvin K. Brown Auto Center — Dave Grundstrom — San Diego, Calif.
O'Brien Auto Group — Mike O'Brien — Washington
Palm Beach Motor Cars Ltd. — Robert Simpson — Palm Beach, Fla.
Patrick Dealer Group — Martin Stilwell — Illinois
Price Family Dealerships — Tom Price — San Jose, Calif.
Price Family Dealerships — Tom Price — San Francisco
Price Family Dealerships — Tom Price — Sacramento, Calif.
Rickenbaugh Cadillac Volvo — Mary Pacifico-Valley — Denver
Roger Beasley Highline Group — David Stein — Austin, Texas
Ron Tonkin Family of Dealerships — Ron Tonkin — Oregon
Serra Automotive — Joe Serra — Michigan
Serra Automotive — Joe Serra — Pasadena, Calif.
Shelly Automotive Group — Damon Shelly — Orange County, Calif.
Sullivan Luxury Cars LLC — Mike Sullivan — Beverly Hills & Santa Monica, Calif.
Ted Britt Auto Group — Raymond Britt — Northern Virginia
Warren Henry Automobiles — Warren Zinn — Miami