IIHS Conducts First Tests for Roof-Strength Standard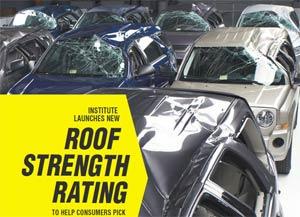 The Insurance Institute for Highway Safety has launched its new roof-strength rating system, conducting its first batch of tests on small SUVs. Only four of 12 vehicles managed to earn the top rating of Good.
The SUVs rated Good were the Subaru Forester, Honda Element, Jeep Patriot and Volkswagen Tiguan. The Suzuki Grand Vitara, Chevrolet Equinox, Toyota RAV4, Nissan Rogue and Mitsubishi Outlander were rated Acceptable. The Honda CR-V and Ford Escape ranked Marginal, while the Kia Sportage and Hyundai Tucson were the only small SUVs to rate Poor.
The new roof-strength standard is meant to combat rollover deaths, which at more than 10,000 a year account for roughly a quarter of all traffic deaths. To become an IIHS Top Safety Pick, vehicles will now have to withstand four times their own weight before the roof collapses 5 inches. This strength-to-weight ratio is much higher than the National Highway Traffic Safety Administration's standard, which mandates that roofs bear 2.5 times the vehicle's weight.
The four-times figure wasn't plucked out of thin air: IIHS says this level of strength could lead to a 50% reduction in fatalities during rollovers. IIHS says including this qualification in its list of Top Safety Pick standards should significantly lower the number of cars — 73 today — that earn that status.
Currently, the Ford Escape, Honda CR-V, Honda Element, Mazda Tribute, Mercury Mariner, Mitsubishi Outlander, Nissan Rogue, Subaru Forester, Toyota RAV4 and VW Tiguan are rated as Top Safety Picks. This test would cull this list of 10 to only the Honda Element, Subaru Forester and VW Tiguan.
Though there's been much debate between the government and automakers about the cost and necessity of roof-strength standards, this move by IIHS won't leave companies much choice but to add to roof strength while trying to keep overall vehicle weight down, lest they be outpaced year after year in IIHS testing.
The Institute will next test roof strength of minicars and midsize cars.