Jeep Introduces Rocky Mountain Editions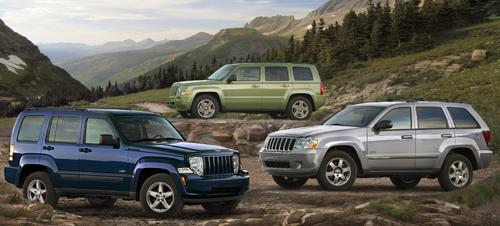 Chrysler has been promoting its Employee Pricing Plus Plus sale for the past three months as a way to get a new Chrysler, Dodge or Jeep vehicle on the cheap. Today, the company announced a new option package that throws in roughly $2,300 in features for a cost of $1,595. Called the Rocky Mountain Edition, this bundle will be available on the 2009 Jeep Patriot, Liberty and Grand Cherokee later this month.
Chrysler has confirmed that the new special editions will be eligible for the current Employee Pricing Plus Plus sale when they go on sale. However, specific rebate amounts will not be known until they go on sale.
Check out full breakdowns of features for each model below.
2009 Jeep Patriot Rocky Mountain Edition (based on 2009 Jeep Patriot Sport)
Includes UConnect 30GB stereo with Sirius Satellite Radio and nine speakers including subwoofer and liftgate speakers, leather-wrapped steering wheel with radio controls, body-colored door handles, 17-inch aluminum wheels, power sunroof
2009 Jeep Liberty Rocky Mountain Edition (based on 2009 Jeep Liberty Sport 4x2 and 4x4)
Includes UConnect 30GB stereo, power sunroof, tinted glass, 17-inch aluminum wheels
2009 Jeep Grand Cherokee Rocky Mountain Edition (based on 2009 Jeep Grand Cherokee Laredo)
Includes UConnect 30GB stereo, power sunroof, chromed body-side molding, 17-inch aluminum wheels
2009|Jeep|Patriot
2009|Jeep|Liberty
2009|Jeep|Grand Cherokee