Lexus Ranks First in Customer Service in J.D. Power Index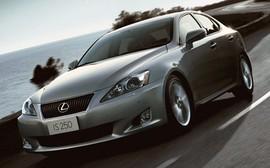 J.D. Power and Associates has released rankings for its Customer Service Index, and Lexus received top honors. The CSI measures the satisfaction of customers "who visit a service department for maintenance or repair work" within the first three years of owning a vehicle.
Jaguar placed second, BMW third, Cadillac fourth and Acura fifth. Lexus was first once before in 2006, and this year supplanted last year's winner, Jaguar, by only a few votes. Keep in mind this is not a measure of vehicle reliability, but a measure of satisfaction for vehicle repairs.
The bottom five of the CSI were, in descending order, Kia, Nissan, Mazda, Suzuki and Isuzu. Perhaps the biggest surprise is that while Lexus ranked first, its parent company, Toyota, fell to 28th place with a score well below the industry average.
J.D. Power Ranks Customer Service: Lexus on Top (Gearlog)