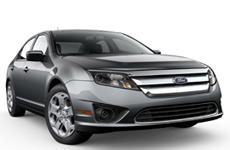 If you're attending the 2009 New York International Auto Show this week, make sure to track down the $50 gift cards Ford and GM are handing out to attendees. They're not free though; to redeem the $50 gift card, you must first test-drive a new Ford or GM vehicle at a dealership. Only then can you go spend the plastic version of Ulysses S. Grant.
Ford's gift card can be spent anywhere, while GM's is good only for food via restaurants.com.
If you weren't interested in the brands before, it's unlikely $50 will sway you, especially if you have to spend it at a few select restaurants.
Let us know what you think. Would a $50 gift card get you into a showroom for a test drive?