GM, Segway Partner on Two-Person Transport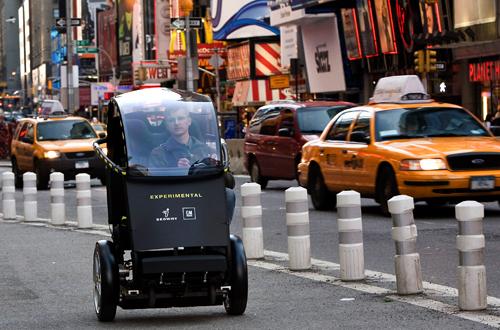 Don't worry, we checked our calendar and April 1 was last week. This is all too real. General Motors has teamed with Segway for a new personal transportation vehicle called the Personal Urban Mobility and Accessibility or PUMA.

Unlike the current Segway built for one, the PUMA carries two people, has a canopy cover and, most importantly, can reach speeds of 35 mph, making it a possible car replacement for urbanites. Its battery has a range of 35 miles. Manhattan, for example, is only 13 miles long.

GM says the cost would be about one-third of a typical car purchase. We're not sure if they mean the average price of cars sold, which is just over $20,000, or what a typical economy car costs, around $15,000.

While there are many practical issues to be had with the PUMA, including what do you do in cold weather, where do you park it, where do you charge it, etc., there is a need for vehicles like this globally. While it's unlikely there is a large market for the PUMA in the U.S., many Asian countries are struggling with a boom in automotive traffic.

The PUMA's technology allows for the vehicles to "talk" to each other, which would theoretically ease congestion and prevent crashes.

During last summer's gas-price spike, gas-powered scooters from Honda and Vespa were nearly impossible to find. Hipsters in our hometown of Chicago often chose the affordable modes of transportation over economy cars to save on parking and gas costs. We wonder if the PUMA could attract buyers in that market.

More photos are below. We'd love to hear your thoughts on whether this is a feasible mode of transportation in the U.S. or elsewhere.