iPod Touch App Controls Basic Car Functions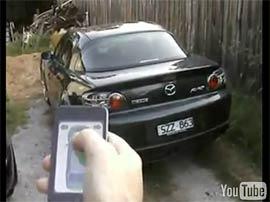 This YouTube video did come to our attention on April Fool's Day, but it is nonetheless convincing — not to mention really cool.
In it, you meet Jonathan Oxer, his Mazda RX-8 and his iPod Touch, with which he controls basic functions of the car via WiFi. He locks and unlocks the doors, starts and stops the engine, opens the trunk and displays a telemetry window that shows off data like RPM, speed, temperature, battery voltage and fuel level (the heavy British accent and use of the word "petrol" may hint at Jon's country of origin).
The application uses the internet to access a computer in the trunk. This computer, according to Jon, is hooked up to the car's on-board diagnostic system, along with a 3G modem for internet connectivity, allowing the app access from anywhere in the world. It even has GPS, so Jon can see the car's whereabouts on GoogleMaps.
Check out the video after the jump; if we've been fooled, we apologize in advance.
iPhone Controlled Mazda RX-8 (Hacked Gadgets via Engadget)