Through Ian's Lens: 2009 Acura TL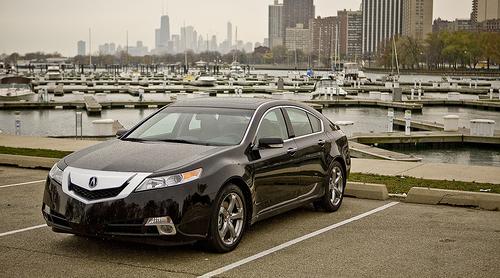 My first reaction to the 2009 Acura TL was one of great conflict. How in the world did the highly trained automotive designers at Acura leave that ugly plate of chrome on the front of that poor car? In all honesty, I think the designers at Acura were working on something bigger than replacing a grille on a car. They were hard at work instituting design cues that the entire Acura line of cars could execute. After spending some time with the nose of the TL, I can see what they were aiming for. And I really like it.
The 2009 Acura TL is a sharp-looking car that takes the Acura brand to a new level of quality. With a brutish front end that contains a large chunk of matte chrome paint, the TL looks like a Honda Accord dressed up for a "Star Trek" convention (in a good way). Sharp lines from the front flow through the body panels and end at the rear of the car, near the sharp taillights. All this aggressive movement ends at a vertical point in the middle of the trunk. This symmetry allows the TL to look mean from all angles.
Check out the quality of the interior by looking at the full set of photos below. Please leave your remarks in the comments section, and feel free to use the full-screen mode on the photo browser.