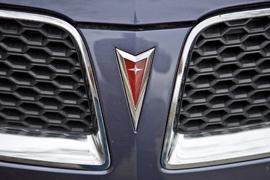 Today GM announced it would stop producing new Pontiac models by the end of 2010. This is the end of an era for the once-proud performance brand, but it also leaves a lot of questions for car shoppers and Pontiac owners.
We talked to Jim Hopson, Pontiac's manager of communications, this morning to clarify GM's statement. He said that Pontiac will continue to operate normally even with today's announcement. All warranty work will be completed as usual; any new Pontiacs sold will have the same full warranty they did last week, one which has the backing of the U.S. government. The government's backing is to help ensure consumers that its safe to still purchase new GM cars while the company seeks to restructure. Only cars purchased through May get the government-backed warranty.
GM will continue to make parts for Pontiac models indefinitely and most Pontiac dealers also sell the Buick and GMC brands and will continue to operate. The automaker still produces replacement parts for the defunct Oldsmobile, which GM shuttered in 2004.

What Hopson couldn't say was when certain models would be phased out.

The current Pontiac lineup reads as follows, including how many days of inventory was sitting on lots as of April 1.
Pontiac G3: 617 days of inventory
Pontiac G5: 443 days of inventory
Pontiac G6: 83 days of inventory
Pontiac G8: 92 days of inventory
Pontiac Solstice: 276 days of inventory
Pontiac Vibe: 149 days of inventory
Pontiac Torrent: 99 days of inventory
The national average for all brands is 83 days of inventory.

We detail specific information on Pontiac models below.
Hopson said the 2009.5 Pontiac G6, which gets a mild updating that we detailed here, has already gone into production. The Pontiac Vibe is sold as a 2010 model.
Pontiac will announce future plant closings in May, which could reveal the models that will disappear first. The Wilmington, Del., assembly plant that produces the Pontiac Solstice and Saturn Sky will likely be an early target of any closing schedule. The Pontiac Torrent has already been killed off.

The Lake Orion, Mich., plant, where the G6 and Chevy Malibu are built, will likely continue to make the more popular Chevy model , however, a Kansas City. Kan., plant also produces the Malibu and is gearing up to produce an all-new Buick LaCrosse. Buick is one of four "core" brands for the slimmed down GM.

The G3 is made in South Korea, and the G8 is built in Australia.

Current incentives end Thursday, and there are considerable cash-back deals as well as low-financing offers on new Pontiacs. We'd assume these deals would be expanded or extended through May as the company continues its restructuring plans.

Regardless of any incentive, the expected resale value of any new Pontiac will see a decline with the news, much like what Oldsmobile experienced earlier this decade. However, Pontiacs already have low resale value. The predicted resale value of the current Pontiac lineup after the first year is 24 months is listed below. A 2009 Toyota Camry resale value for the same time period is 60%.
2009 Pontiac G3: 53%
2009 Pontiac G5: 51% (base coupe)
2009 Pontiac G6: 45% (base sedan)
2009 Pontiac G8: 40% (base sedan)
2009 Pontiac Solstice: 54% (base convertible)
2010 Pontiac Vibe: n/a
2009 Pontiac Torrent: 43% (base FWD)
Source: KBB.com