Chrysler Bankruptcy: Friday Recap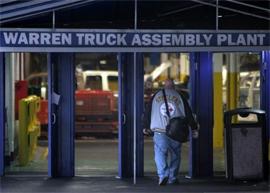 Yesterday's news about Chrysler filing for bankruptcy was monumental in many ways. Since the announcement by President Barack Obama, more news has come to light about the deal. Much of it is of concern to car shoppers. Here's our rundown.
The U.S. government will continue to back the warranties of new Chrysler vehicles sold through June 30,2009. Bankruptcy proceedings could take longer and we'd expect the government to extend coverage if that happens. Chrysler's current offering is a three-year/36,000-mile bumper-to-bumper warranty, with a lifetime powertrain warranty that covers the engine and transmission only and is not transfferable.
The current Employee Pricing Plus Plus incentives on Chrysler, Dodge and Jeep vehicles will continue through May 4. Some say not to expect huge discounts to follow after that, even with the company in bankruptcy.
Chrysler will shut down all its U.S. factories for at least the next 30 days, and some for 60 days, starting May 4. Some suppliers of Chrysler parts stopped shipping new parts once the company declared bankruptcy, fearing they would not be paid. Plants affected by those supplier shortages have already shut down.
As of April 1, Chrysler had an average of 87 days of new vehicle inventory on lots. That's close to Ford's 80 but far better than GM's 122 days of inventory.
Don't expect a sexy little Fiat 500 to come to a Chrysler dealer near you anytime soon. Estimates have the 500 arriving as early as the first quarter of 2010.
Chrysler Chairman Robert Nardelli announced he will leave the company once the bankruptcy is complete. Chrysler Vice Chairman Tom LaSorda — who was demoted when Chrysler was sold to Cerberus LLC last year — plans to announce he will leave the company before bankruptcy is complete. Jim Press, another vice chairman and formerly of Toyota, looks to stay on.
Chrysler tried to form partnerships with almost every other automaker — including Chinese companies — before settling on the Fiat partnership.
A number of analysts say larger discounts on Chrysler products will not be coming so buy one now if you're interested.
Chrysler sales were down 48% in April compared to the same month in 2008. That was the worst decline of any full-line manufacturer over the same period.