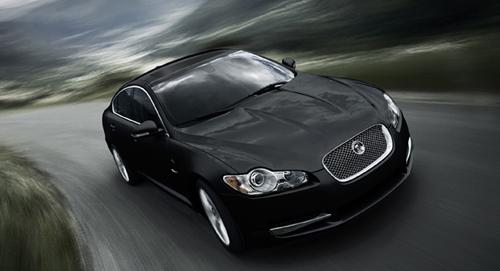 If updating the Jaguar XF sedan just one year after the model's introduction weren't enough, Jaguar is bringing back to North America a trim level we thought had been replaced by the all-new, performance-oriented 2010 XFR. Priced at $68,000, including destination charge, the 2010 XF Supercharged rejoins the Luxury and Premium trim levels that launched the model in 2009, as well as the new ultra-luxury Portfolio edition and XFR, which were introduced as 2010 models at January's Detroit auto show. The XF model line's prices range from $52,000 to $80,000 with destination.
The XF Supercharged splits the difference between the XF equipped with the optional 5.0-liter V-8 (new for 2010) and the XFR, which has a higher-output version of the new trim level's supercharged 5.0-liter. The breakdown is 300 hp for the 4.2-liter V-8, 385 hp for the new 5.0-liter, 470 hp in the XF Supercharged and 510 hp in the XFR. Jaguar's claimed 0-60 mph times are 6.2, 5.5, 4.9 and 4.7 seconds, respectively.
The Supercharged has upgraded brakes with silver-gray calipers and 20-inch wheels available on no other trim level. There's contrast stitching on the dashboard and door panels, a heated steering wheel, a faux suede headliner, exclusive Rich Oak Veneer trim and a Bowers & Wilkins surround audio system with HD radio. The XF Supercharged will hit dealerships in October.
Any concerns that Jaguar's new owner, Tata Motors of India, would put the brakes on development should be allayed at this point. If anything, they seem to have dialed things up.
2010|Jaguar|XF
2009|Jaguar|XF