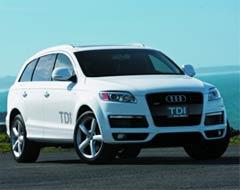 While all the hype may surround hybrids, plug-ins and electric vehicles, Audi has chosen to push clean-diesel engines as an efficient alternative to standard gasoline-powered cars. You've probably already seen the ads for the diesel Q7 SUV that the automaker introduced earlier this year, and Audi will also roll out a diesel A3 wagon in late 2009. In campaigns for both cars, the automaker wants to emphasize that diesel vehicles cut oil use substantially.
According to Audi, if a third of Americans drove diesel cars, daily imported oil use would fall by 1.5 million barrels, because diesel engines are 30% more fuel-efficient than gas-powered models. It also points out that roughly half of Europe's cars are diesels. Right now, diesels make up 3% of U.S. sales, while hybrids account for 2.4%, according to J.D. Power and Associates.
While both types of cars certainly have a lot of room to grow, there are some key issues Audi will not bring up in its drive to sell diesel cars. For instance, while it's true that some clean-diesel vehicles qualify for tax credits, so do some hybrids. Audi's point is that the technology for diesel vehicles is here right now, but again, the same can be said of your standard hybrid.
A Q7 will set you back at least $43,500, while the non-diesel 2009 A3 starts at nearly $27,000. The cheapest diesel on the U.S. market is the Volkswagen Jetta TDI, which starts at just over $22,000 and has an EPA rating of 30/41 mpg city/highway (the Honda Insight and Toyota Prius hybrids both cost less and are more fuel efficient).
Finally, the price of diesel is more volatile than that of gasoline. Although diesel has fallen significantly in cost since last year, now hovering a few cents below gas, all the refining capacity for diesel remains in Europe. That means that during a fuel crunch like we saw last summer, all those diesel European cars will have first dibs on diesel, which will send U.S. prices soaring.
This means that while diesel engines can be more efficient, there's no guarantee they will be less expensive. In other words, it's not that Audi's diesel campaign is incorrect, it's just that presenting diesel as an oil-saving panacea is slightly misleading.
Audi Pushes Diesel as Oil-Saving Option (Detroit News)