GM Suspends 2010 Chevy Malibu Hybrid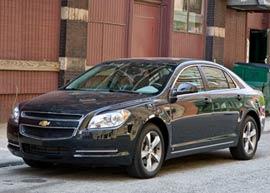 GM has suspended production of the Chevrolet Malibu Hybrid for the 2010 model year, as elevated inventory levels of the 2009 Malibu Hybrid should meet demand for the vehicle through 2010, the company said.
According to GM spokesman Brian Corbett, the suspension of the Malibu Hybrid is temporary and has no implications for future hybrid products from Chevrolet.
The Saturn Aura Hybrid and Vue Hybrid, which use the same "mild" hybrid technology as the Malibu Hybrid, may also cease production. Corbett said there's an understanding between GM and Penske Automotive Group, which has a deal to buy Saturn, that will provide Penske with 2010 Saturn vehicles, including the Aura, Vue and Outlook. Details about which trim levels will be made, however, have yet to be determined.
Corbett said GM plans to debut a next-generation mild hybrid system in 2011.
The next-generation system will be three times more powerful, have smaller batteries and increase fuel efficiency up to 20% compared with equivalent gas-only models.
Unlike the current mild hybrid system, the next generation will be capable of propelling a vehicle on electric power alone for a short time.
GM has publicly stated its intent to sell 14 hybrid and electric vehicle models in the U.S. by 2012. Corbett says that commitment hasn't changed.
So far, GM has sold 6,895 hybrids in 2009, compared with 15,309 hybrid sales for Toyota in May alone.