NHTSA Looking to Mandate Rear Turn-Signal Color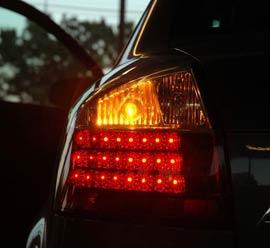 The National Highway Traffic Safety Administration is asking for public comment on a proposed new regulation that would mandate vehicle rear turn signals to be amber-colored. Currently, they can be either amber or red, in accordance with Federal Motor Vehicle Safety Standard No. 108.
According to a study by NHTSA, amber rear turn signals have proved 5.3% more effective than red turn signals in preventing crashes. The study focused on "switch pairs," which are vehicles that switched rear turn-signal color from one model year to the next, while controlling for "extraneous factors" such as vehicle and driver traits.
European countries already mandate that turn signals be amber, and although 5.3% sounds like a fairly small difference, NHTSA says it's statistically significant and in line with other studies done on the subject. If automakers have to make a separate, colored turn signal in the rear it will cost more money for the domestics, but save money for automakers importing European models.
The comment period for the proposed regulation will last through Sept. 6.