Ohio Turnpike to Accept Credit, Debit Card Toll Payments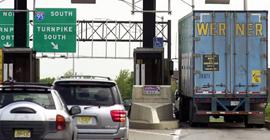 If you plan on taking a road trip through Ohio later this year, you'll find a much appreciated tollbooth feature — one that'll allow you to pay tolls with credit or debit cards. Select toll booths along the 241-mile Ohio Turnpike will accept the cards.
By accepting credit and debit card at toll booths, the Ohio Turnpike Commission is increasing its ability to serve drivers. Not everyone uses an electronic pass (E-Z Pass, I-Pass, etc.), which automatically deducts the toll money from an account, when driving on a toll road, and finding enough spare change scattered around cupholders can be difficult, especially when you've spent all of it on candy from the rest stop's vending machine.
There are already a few machines set up at staffed tollbooths for testing, but the commission plans to have machines installed at 10 low-volume exits by the end of the year. Eventually, these booths will be unmanned at night.
Indiana is also planning to add credit and debit card to its toll roads.
Ohio Turnpike to let drivers pay tolls with credit, debit cards (The Plain Dealer)