Will Consumers Miss the Old GM? Not Likely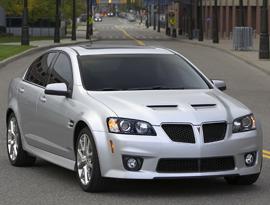 There's been a lot of talk about "good GM" and "bad GM" and what the closure of Pontiac and sale of Saturn, Saab and Hummer will mean to the new company. We thought we'd recap the impact GM's restructuring will have on car shoppers.
General Motors remains the largest producer and seller of cars and trucks in the United States, already selling 777,785 vehicles this year, through May.
Nearly one of every five cars purchased in the U.S. comes from GM through the Chevrolet, Buick, GMC, Cadillac, Saab, Saturn, Hummer and Pontiac brands.
Pontiac will be shut down completely by the end of 2010, with Saab, Saturn and Hummer expected to be sold off.
Those four brands combined have 18 nameplates on sale. Together, those models comprised 2.4% of the new-car market in April. That's a drop of about 1% from the same time last year (3.6%).
Which is to say that consumers won't exactly miss these brands, which is part of the reason why GM and President Barack Obama's auto task force decided to cut them.
In their wake, GM could pick up market share with Chevrolet, which had a 14% share in April -- up from 12.5% last year.
Chevy was the second best-selling brand in April, just behind Ford and just ahead of Toyota. Buick, GMC and Cadillac saw market share hold steady.
Consumers are also buying more Hondas, Hyundais, Kias, Volkswagens and BMWs as a percentage of the market.
According to The Economist, U.S. capacity to build cars still exceeds demand by around 7 million vehicles. So if you're worried that prices will increase after a GM downsizing, that fear is unfounded.
The bottom line is, consumers will have fewer individual models to chose from in the short term, though you should still be able to find the car you want at the price you're looking for.
If you had your heart set on a Saturn Aura or a Pontiac G8, they are still on sale with full warranties that are backed by the government, and they will be serviced at other GM dealers.
Looking at these numbers, it seems the Old GM will likely fade away like Oldsmobiles of the past. What's still unknown is whether the New GM will pick up the lost market share.
Market share of endangered car brands (April 2009)
Pontiac = 1.3%
Saturn = 0.9%
Hummer = 0.1%
Saab = 0.1%
Market share of five largest brands (April 2009)
Ford = 14.1%
Chevrolet = 14%
Toyota = 13.2%
Honda = 11.2%
Dodge = 5.3%
*All market share and sales numbers come from Automotive News.