Chrysler to Double Cash for Clunker Incentive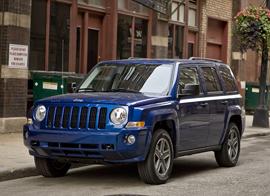 Over the past few years, Chrysler hasn't been shy about rolling out headline-grabbing incentives. Many may recall the company's $2.99 gas deal amid the $4-a-gallon summer of 2008. Today, the company announced it will match any Cash for Clunkers funds buyers qualify for from the government for the purchase of any qualifying 2009 Chrysler, Dodge or Jeep model. That means total cash back could be as high as $9,000.
On top of the $3,500 or $4,500 shoppers get in exchange for turning in their old car for a higher-mileage new one, Chrysler will add the equivalent amount from its own coffers.
The fact that Chrysler's coffers still exist only because of government intervention likely isn't lost on many.
For buyers who don't care about the politics of such a campaign, the savings are significant. On a low-end car like a Jeep Patriot — with a starting MSRP of $17,540 — the savings of just a $3,500 cash-back incentive is better than you'd typically find. Prior to this new deal, a 2009 Jeep Patriot had only a $1,000 cash-back offer, plus an additional $1,000 in owner-loyalty cash. So even if you were already a Jeep owner, you'd still be getting a better deal now.
To get the largest, $4,500 credit, your trade-in would have to get 15 mpg combined, which is unlikely. If your clunker's mileage is that low, however, the final adjusted price for a 2009 Patriot using this new incentive deal — plus the government funds — could be as low as $8,540. If you only qualify for the more likely $3,500, it would be $10,540.
The program starts tomorrow and runs through Aug. 31.
To see if your old car qualifies as a Cash for Clunkers trade-in, check out Cars.com's Guide to Cash for Clunkers.
To see which new Chrysler, Dodge and Jeep models are eligible for the government incentive, check out our list of eligible models here.
In case you're wondering: A 1986 Jeep Cherokee comparably equipped to a modern Jeep Patriot got 23 mpg combined using today's adjusted EPA numbers. A 2009 Jeep Patriot also equipped with a four-cylinder, manual transmission and two-wheel drive? 25 mpg.