GM 72-Hour Sale: 0% for 72 Months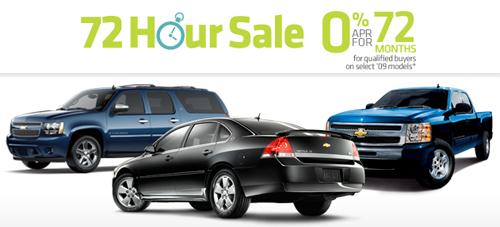 Maybe GM's math skills got them into the trouble they're in. Their just announced 72-hour sale starts today and runs through July 6, which is 144 hours by our count. Maybe they wanted to tie the sale name in with the sale terms, namely 0% financing for 72 months on select models for those buyers who qualify.
Included 2009 and 2010 models in the 0% for 72-months term are: Chevrolet Silverado and GMC Sierra regular, extended and crew cab light-duty pickups; Chevrolet Suburban and GMC Yukon XL SUVs; Chevrolet Impala; and the Pontiac Vibe, G3, G5, G6 and G8.
Other models have separate incentives you can find here.