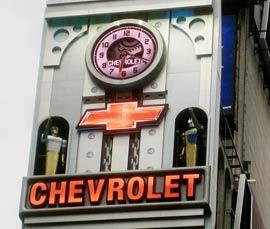 GM is being allowed to cancel 54 sponsorship deals as part of its bankruptcy filing. These canceled deals include marketing agreements with the Oakland Raiders, the University of Southern California, the Arnold Palmer Invitational and, perhaps most notably, billboards in Times Square.
GM has advertised in Times Square since the 1930s, changing locations several times but always maintaining a presence. Most recently, in 2007, the Chevrolet clock replaced the Cup O' Noodles billboard at Times Square's southern edge.
Check out the New York Times story to see some images of GM's Big Apple marketing from the '30s and '40s.
G.M. Says Farewell to Times Square (Wheels)