Weekend Athlete Hits the Elkhart Lake Triathlon in a 2009 Kia Sedona
It's summer, and that means it's time to switch to triathlons, camping and trail-running. The Weekend Athlete feature is also changing things up, adding a more real-life, real-use look at whatever car — sometimes, gasp! rentals — I'm taking on my adventures.
Destination: Racing the Elkhart Lake Triathlon
Car: 2009 Kia Sedona
Distance: About 338 miles
The Trip: I've done this triathlon several times over the past few years, and it might just be my favorite because it gives me an excuse to take a long drive in the country on one or two lightly traveled roads. The racecourse is also super-fun, with good hills.
My bike obviously comes along, and because it's early in the year the wetsuit does too. I like to stay up in Wisconsin the night before, so I bring more gear than normal: Food, extra clothes, etc. To my mind, all of this means that it's the best triathlon to test a car. (In a weird coincidence, the first time I did this race I had a Kia Optima sedan.)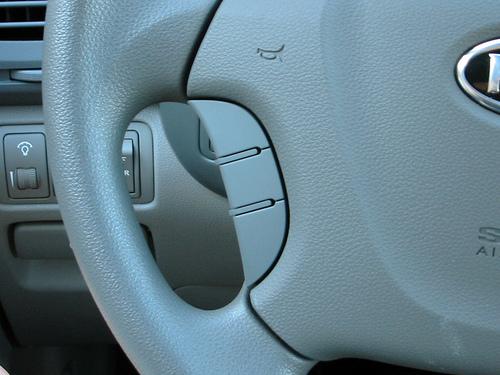 One feature that I really wish the Sedona had: A telescoping steering wheel with audio controls. I think it's best to keep your hands on the wheel if possible, and I couldn't quite position the steering wheel exactly where I wanted it. Small potatoes, of course, but it's honestly the only thing I really wanted.
Feature I found I didn't need: Removable second-row seats. I had plenty of room just folding the seats, and who wants to put up with storing the things? Now, if I were moving furniture…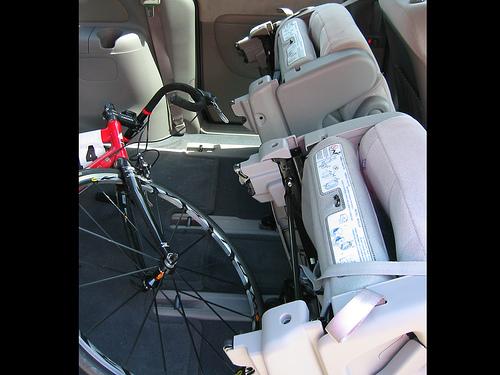 A feature I found surprisingly useful: The ability to tumble the second-row seats forward. When they were tumbled that way and secured with the strap, I had exactly the right amount of room for my bike and gear.
Drive report: As you'd expect — and can see from the pictures — hauling stuff in a minivan is pretty easy. I was a bit worried the Sedona would be tossed around by the wind during my drive, but it didn't seem to be badly affected. Visibility was excellent, which helped a lot when I was parking for the race and driving through the crowded parking areas.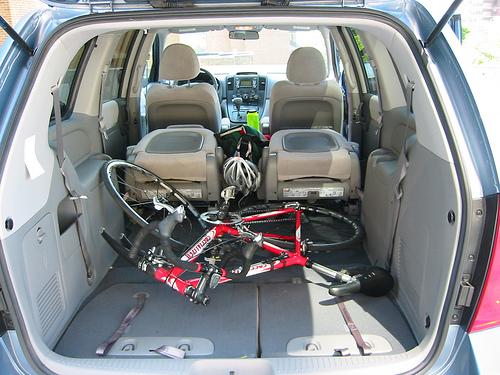 Athlete notes: All the doors and hatches were manual — no power open or close features — but loading my bike and gear was still pretty easy. Also, as you can see, the second-row seats fold over, or you can fold them even farther and secure them with a cloth strap. The first way meant I had to take my front wheel off to fit my bike, but the second way let me leave the wheel on.
The Sedona also has a large gas tank, which is nice when you just want to sit down, drive away from the race and be home as fast as you can.
Comfort vs. Convenience: There was no issue with this, even in the relative no-frill zone that is the Sedona. The minivan was both comfortable and convenient. Maybe later in the summer, when I get different cars, this will be a category worth watching.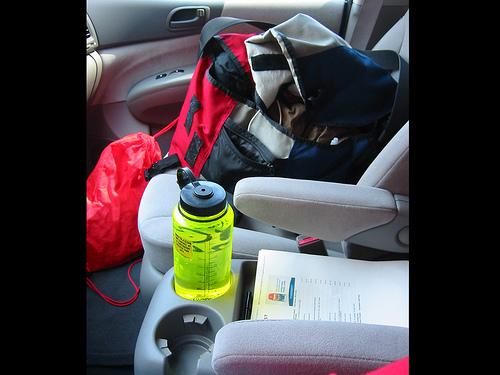 Final thoughts: This was an easy vehicle to live with as an athlete. I didn't have to leave any toys behind. In fact, I could've easily brought friends and their equipment along as well. The Sedona is a car I'd pick for my racing again if I had the chance.