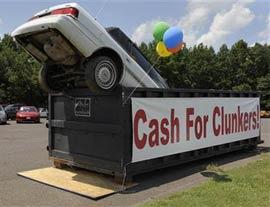 If you're confused by what's going on with the Cash for Clunkers program, you're not alone. The most important thing to know is that according to Transportation Secretary Ray LaHood and the White House, the program will run at least through Tuesday. That means if you're still thinking about taking advantage of the $3,500-$4,500 voucher, it's best you get to a dealership quickly.
The future of the CARS program after that will depend on the U.S. Senate. The House of Representatives has already passed a $2 billion extension, taking the money from a renewable-energy loan program. Because the House is already on vacation, the Senate must approve this same measure without amendments if the program is going to continue.
Cash for Clunkers has come under criticism from those who say it's a bureaucratic mess or that it's only financed the wealthy as they purchase cars they would have bought anyway. However, the fact remains that the program helped sell approximately 250,000 new cars that were more fuel-efficient than the vehicles being traded in. Ford will post the first year-over-year sales increase for a domestic automaker since January 2008.
Chrysler's showrooms were so slammed it lowered its matching incentive deal because dealers were running out of inventory — this from an automaker that shut down its factories due to bloated inventory just months ago.
It's still unclear if the Senate will OK the money before it leaves for the August recess on Friday.
Obama Administration Hopeful on "Clunker" Extension (Reuters)