Chevy Says Volt to Get 230 MPG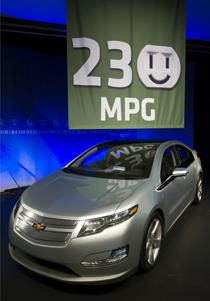 In a bold move, Chevy claims that the 2011 Chevy Volt plug-in electric will get 230 mpg in city driving; the automaker got this fuel economy number using a newly devised EPA method. This isn't an official number, but the company hosted a web conference this morning and boldly touted the claim. They even advertised the fuel economy number leading up to today's announcement in anonymous ads on television. This would be the first vehicle to ever receive an EPA rating of more than 100 mpg.
The skepticism of the claim comes from a number of factors:
The 230-mpg rating was devised using a new EPA methodology created specifically for the Chevy Volt and other plug-in hybrids like it.The methodology itself is still not set in stone and is preliminary.
The Volt's overall range will be 40 miles on an electric charge and 300 miles after that. If it packs a 10-gallon gas tank (we know it'll be less than 12), our simple math finds that it will get 34 mpg overall. GM says it will get 40 mpg once the battery is depleted, which would mean an exceptionally small 8.5-gallon gas tank.
Here is the methodology explanation provided by GM: "Under the new methodology being developed, EPA weights plug-in electric vehicles as traveling more city miles than highway miles on only electricity."
We're not sure if that means they're factoring in a nightly recharge nor do we know how many miles their new cycle includes. If it is only a 40-mile cycle, it would lead to extremely high results.
The Volt's premise and underlying technology hasn't changed since our last round of reporting on it. The Volt will likely be an extremely efficient vehicle, and one without the "range anxiety" of future electric-only vehicles. But to the layman, it will likely never get 230 mpg in the real world.